Setting aside money can help you deal with an unexpected emergency, fund that vacation you've always wanted, or make a down payment on your dream house. But which is more important: saving money for the future or getting out of debt as soon as possible?
Contributing to a retirement savings account such as a TFSA or RRSP helps ensure that you have money to cover your daily living expenses during retirement. Also, setting aside cash in an emergency fund can help you avoid going into debt to pay for unplanned expenses (like significant car repairs or if you lose your primary source of income for a time).
Let's look at the value of building a savings or investment account compared to the cost of paying off your debt, the benefits of getting out of debt sooner rather than later, and some tips for saving money while keeping up with debt repayment obligations.
Which Is Better: Saving for the Future or Paying Off Debts Now?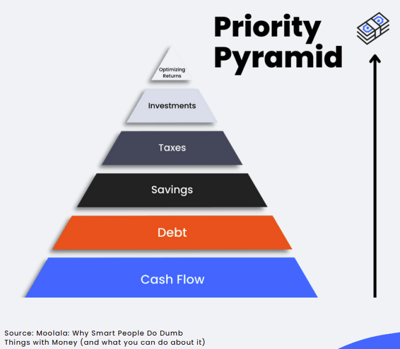 When balancing the need to pay off debts versus saving money for the future, one of the first things to consider is which option will provide you with the most significant value over time.
In our financial readiness kit, there's a concept called the "Priority Pyramid." This is a method of visualizing your areas of financial focus from most important to least important. You start at the bottom of the pyramid and work your way up, answering a simple yes or no question for each layer of the pyramid, helping you focus on what matters most:
Does My Income Exceed My Expenses?
Have I Eliminated My High-Interest Debt?
Have I Saved Enough Money for What's Important to Me?
Am I Taking Advantage of Government Tax Incentives That I Qualify For?
Have I Made Retirement Savings Account Contributions or Other Tax-Advantaged Investments to the Limit?
Have I Optimized the Returns for My Investments?
If your answer to the first question is "yes," then proceed to question two. If your answer to any of these questions is "no," then you'll know where you need to focus your efforts.
In this hierarchy, debt repayment, especially of high interest debt, comes immediately after you ensure that you're living within your means (when your income exceeds your expenses).
Why Is Paying Off High-Interest Debt More Important Than Saving Money or Investing?
Investing money in the stock market or a tax-advantaged account like an RRSP or TFSA can help you build a steady source of income for retirement. However, contributions to your stock portfolio or retirement accounts should come after you've taken care of your high-interest debts.
Why? Because, paying down debt can save you more money than you'd make on most investments. For example, in Canada, the average stock market return from 1984 to 2021 was about 6.35%. Of course, over the decades, the actual rate of return has fluctuated dramatically from year to year, and individual stocks may perform better (or worse) than the average.
Compare this to the average cost of credit card interest. Credit card interest rates can vary greatly depending on your credit score and various other factors, but typically fall between 19.99% and 25.99% Annual Percentage Rate, or APR. APR is the amount of interest that a credit card balance will accumulate over the course of a year.
So, say you have $1,000 that you don't have to use for basic living expenses. Which would serve you better: investing the money into stocks or paying off a 25% APR credit card balance? After one year, the invested capital might grow to about $1,063.50 (assuming a 6.35% average growth rate). However, taking $1,000 off of your 25% APR contract debt would save you an added $250 of interest after one year. In this case, saving a guaranteed $250 provides greater value than earning a potential $63.50 on investments.
The decision to prioritize saving money or to use it to pay off debt will depend on your situation. Setting up an emergency fund is critical for uncertain times, but paying off debt will often come first. In any case, it is beneficial to talk to a financial advisor before making any major decisions.
5 Tips for Saving Money While Keeping Up with Debt Repayment
Of course, saving money for the future and keeping up with your debt payments aren't mutually exclusive concepts. You can build your nest egg while paying down (or off) your debt. Here are a few tips to help you get the best of both worlds:
When trying to decide between paying off debt or saving up for the future, it's important to check your financial obligations before making a decision. If you have a lot of high-interest debt, we strongly recommend that you do whatever you can to pay off that debt first so it doesn't continue to grow. If you've already paid off your biggest debts, then you might want to start making heavier contributions to your investment accounts.
If you need help deciding if it's better for you to start setting aside money or to pay off more of your debt first, please consult with a financial advisor or credit counsellor.
Get Debt Management Help from Credit Canada
Do you need help managing debt while preparing for the future? Credit Canada is here to help. From budget planning to money-saving tips, debt consolidation plans, and post-debt advice to keep you out of debt once you're free, our certified credit counsellors have helped thousands—and we want to help you as well.
Reach out to Credit Canada for help and advice. You don't need to face your creditors and bills alone. Get help now so you can return to focusing on living your life free of debt.
Stay in Touch
& Up-to-Date