In today's blog, we'll cover what financial planning is, why it's important, and some basic tips about managing your personal finances.
Having Money Trouble? Get some credit counselling advice!
What Is Financial Planning?
Financial planning can be broadly defined as assessing the current state of your finances (your income, expenses, liabilities, assets, etc.) and using that information to plan for the future.
It's also a financial service that is sometimes offered by both accredited and unaccredited individuals and organisations. When offered as a service, the financial planner may review your situation and make recommendations on how to control your spending, set aside money for the future, get rid of debt, or meet your financial goals.
If you decide to use a professional financial planning or coaching service, be sure to check both their credentials and their fee structure before signing up. As it turns out, anyone can call themselves a financial planner or a money coach in most of Canada even without any relevant education or credentials! The exception is Quebec, where an IQPF diploma is required.
About the "Financial Planning Pyramid"
If you search online for terms like "what is financial planning" or "Canadian financial planning advice," you might come across a concept called the financial planning pyramid.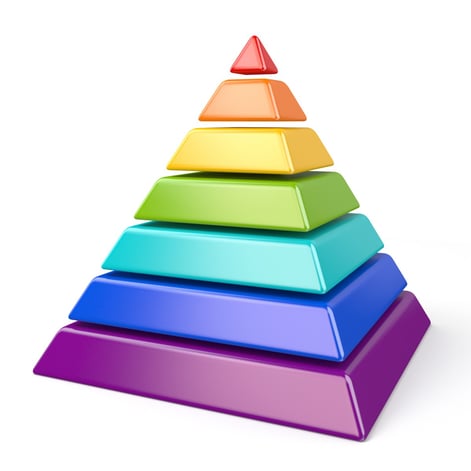 This pyramid is a way to visualize the different steps in meeting your financial goals (like Maslow's famous hierarchy of needs, but for finances) where you move from your most basic financial needs towards your ultimate goals. Different organisations may use different terms throughout a financial planning pyramid, so they may be somewhat inconsistent.
Some common points on the pyramid include:
Protecting your money
Saving your money
Growing your money
Knowing what financial risks to take
Hitting financial goals
Or, they may have specific steps like:
Creating a budget
Establishing savings accounts
Investing money
Retirement planning
The point is that these pyramids may look very different from one example to the next since they're a type of financial planning visualization tool and not a hard and fast rule of personal economics.
Why Is Financial Planning Important?
So, why is it important to know how to create a plan for your finances? Financial planning is a life skill that enables you to set a budget, invest money, and meet your own personal financial goals.
Without an understanding of personal finance planning, it's much harder to avoid debt, set aside money for the future, and improve your credit score. This could have a big impact on your future.
Financial Planning Tips
With this in mind, what can you do to improve your skills for financial planning month? Here are a few simple financial planning tips to get you started:
1. Consider the Impact of Inflation on Your Plans
It's easy to forget about inflation, even when you're engaged in personal financial planning. The effects of inflation are well-documented and impactful for everyone.
In September of 2021, Canada's inflation rate hit 4.4% (the highest inflation rate since 2003). So, if you're planning a major purchase in the future, it might be important to increase your expectations of what you need to pay when you finally sign.
For example, let's say that inflation holds steady at 3% for 10 years. Then, consider a house that costs $150,000 today, which requires a 20% ($30,000) downpayment.
After 10 years, the home is now valued about $195,000 based on inflation alone — bumping your minimum down payment to roughly $39,140.
If you had only saved the minimum $30,000 you needed 10 years prior, you'd still be short by about 25% of your needed down payment. This inflation can also impact what you spend on basic necessities in the future, too. So, it's important to plan around inflation and accommodate your expected expenses to account for it.
2. Expecting a Baby? Expect Financial Planning, Too!
Financial planning for kids (meaning planning your finances around your children, not having the kids do financial planning) is a critical part of being a parent. Kids can have an enormous impact on your finances from buying basic necessities to changing how you save money and more.
With a well-established financial plan that takes into account all of your child's (or children's) needs, you can better prepare for every stage of their growth. This includes financial planning for when kids leave the home and providing your kids with their own financial literacy education.
3. Set Aside Money for Emergencies or a Rainy Day Fund
It's impossible to completely predict the future. Sure, you can make educated guesses based on current trends, but you never know when something catastrophic may happen that forces you to rely on your savings to make ends meet.
The COVID-19 pandemic and the way it caused the temporary (and sometimes permanent) closure of many businesses is a prime example.
So, in any financial planning calculator or form you're using, it's important to leave room in the budget for a savings account or emergency stash of liquid assets (i.e. cash or assets that are easy to convert to cash).
This emergency stash can mean the difference between taking on debt and surviving a turbulent time with your finances intact.
4. Don't Be Afraid of Seeking Help or Using Convenient Tools
Engaging in personal financial planning doesn't necessarily mean that you have to do everything by yourself. There's no shame in seeking help or looking up tools like a financial planning calculator or a pre-made planning form.
For example, you could look up financial coaching services in Toronto, check out a budget planner and expense tracker, or use a budget calculator. These tools and services can help with financial planning in Toronto or any other area of Canada and remove some of the stress from trying to manage your finances.
Auto loans, mortgages, credit cards, and other financial agreements can contain a lot of jargon that makes them hard to understand. This makes it important to seek assistance when you may need it and sharpen your own financial literacy skills when you can. Understanding and responding to jargon-heavy clauses in these contracts can make a huge difference when you're negotiating with a bank or other lender.
Are you looking for help? Consider working with a non-profit credit counselling agency! Credit Canada has helped many people get out of debt, improve their financial literacy skills, and learn the art of personal financial planning so they can stay out of debt. Reach out today to get started!
Stay in Touch
& Up-to-Date